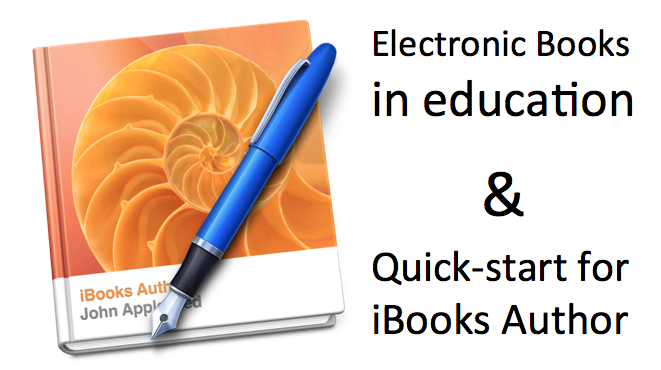 Ebook or Electronic Book - An electronic version of a printed book Ebooks hold massive potential for the education sector. I work at a school where we deployed Apple MacBooks to over 1000 students. Almost 3 years later and students still seem to be carrying heavy bags full of additional text books.
Clearly we need to do more to achieve the ideal, paperless school environment. The transition however, has proven to be complicated and in most instances restrictive due to the multiple formats and sometimes Digital Rights Management (DRM).
Ebooks come in many different formats, the most popular being;
PDF - Adobe's own format - widely used across almost all platforms.
AZW - The Amazon proprietary format.
MOBI - most PDA's and smart phones use this format.
EPUB - Widely used by almost all formats apart from the Amazon Kindle.
IBOOKs - Apple exclusive, new format.
In my school we use Apple technologies. Therefore the following formats are considerations;
Adobe PDF
At present the flexible format of choice is the Adobe PDF. Their format is fine, you can create beautiful page layouts, create complex forms and annotate and collaborate with sticky notes. The Adobe PDF starts to fall short though when you want to add media like audio or video. Your media will be encoded to Flash, rendering the document quite useless for iOS users.
The .ePub format
ePub seemed like a promising choice for a few years. However limitations started to reveal themselves. Ideal document layout was tricky to achieve. I experienced unusual playback of audio objects if you placed too much audio in one document. ePub is still going strong though, it is very flexible because many devices can decode the file type.
iBooks Author
The 'iBooks textbooks' format is by far the most visually appealing ebook. iBooks take full advantage of the iOS touch screen. The format has countless enhancements including picture slide shows, 3d object manipulation, video playback and interactive glossary to name just a few. After experiencing these books you will never go back. That is if you fully understand the commitment you are making....
As a teacher, school curriculum decision maker, or writing enthusiast which format should you use?
This is a decision which has so many variables only you will know the answer. With many factors to consider, I will share my opinion considering that I would like to achieve maximum accessibility for my colleagues who use a combination of Apple devices.
How media rich and interactive would you like your book to be?
It seems that the more interactive and media rich the book is, the fewer devices will actually render it correctly.
My opinions and choices
I tend to lean towards PDF documents for professional collaboration with my peers, especially when working with laptop or desktop computers.
In order for me to reach my school community of iPod, iPad and MacBook users I still favour the ePub format. Simply because I know that all devices can access the text.
However, I have had issues creating ePubs with Pages. For this reason I prefer to use an iPad app called Book Creator. Book Creator is a simply way to build my ePub book, but I cannot embed video (although it does handle audio very well).
iBooks Author may initially seem like a restrictive choice to consume and create text. However the format is squarely aimed at the education sector. To assist cognitive learning there is no better tool. The student retains knowledge by listening, watching, reading, and touching information. This experience holds great promise. If you are in a community of iPad users you must investigate the iBooks textbooks further.
Some important considerations with iBooks:
You can only read 'enhanced' iBooks from your iPad. By 'enhanced' iBooks I mean iBooks created using iBooks Author.
You can only create iBooks on the latest Mac OS, Lion.
iBooks textbooks are perfect for creating interactive, media rich books.
As a study aid there is no better format for illustrating facts in a meaningful way.
You can distribute your book internally to your students and colleagues or you may choose to publish it to the iTunes Bookstore. Its up to you if you want to charge.
Please download my 'Getting started' guide  which supplements my 'Ebooks and iBooks Author for education' teacher training session.
[button link="http://isupport.com.au/wp-content/uploads/2012/06/iBooks-passport.pdf" type="icon" newwindow="yes"] iBooks in education support document[/button]